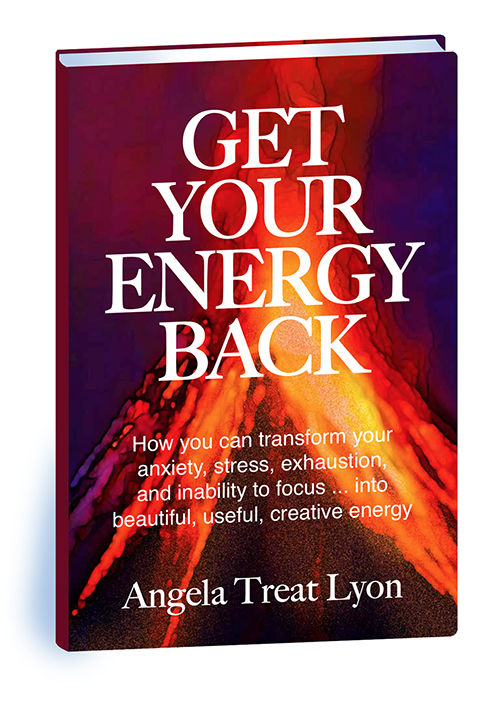 'EVERYTHING IS ENERGY'
We hear scientists say that, but we don't really 'get' the concept. We think, "oh cool, that's nice," but I don't think we really understand the powerful implications.
Thoughts, beliefs, habits, trauma and other emotional turmoil pull us away from our 'right' minds. We get caught focusing on and trying to heal issues and problems, rather than choosing to create.
We forget that the energy under our thoughts and beliefs is the basis of everything. It's like we live in a cosmic river of swirling, rippling waves, whirlpools, streams, eddies and even stagnant ponds. Layers of energy, depths and shallows full of tumbling, teeming life and vitality!
SURPRISE! HOW YOU FEEL IS NOT THE PROBLEM!
It is only an indicator of energy that can be harvested for creative use.
I think you might agree that, since 2019, in general our collective energy has been torn apart, shredded and tossed around like chaff in the wind. It's been stomped on, isolated and devalued.
People are exhausted, numb, suicidal, depressed, discouraged and unable to get back on any constant track.
It seems to me that a general pall of fear is the new normal.
TIME TO TURN ALL THAT AROUND
Fear has us all gutted and torn up inside, self-doubt and lack of confidence reign.
So when I saw recently that I was falling into fear territory, I knew I had to change on a very fundamental level. I had to DECIDE to pivot, and do it right away, with no delay.
After I decided to pivot, I had to COMMIT to doing what it takes to follow through until I got satisfying results. No slacking.
I thought to myself, THIS IS MY LIFE we're talking about here. I'm in my late 70s, with a piddling social security check, no husband or other help-mate, and no job-retirement income. If I don't do something for myself, NO ONE ELSE WILL, either.
HOW IS IT FOR YOU?
Who can you depend upon if your life takes a serious down-turn? I believe that it's time to take back the energy you have lost over the last x number of years and get creative with it!
So what would be the first steps?
WHAT TO DO???
We have to create some very strong parameters.
1. I shall not be a victim. I shall survive.
2. I'll do it no matter what.
3. Change creates more change: I will stay vigilant and keep up, changing my mind as I go.
Our lives are precious expressions of what I call a Divine Mystery – god, etc – whatever – and as such, we need to commit to living our best lives as much as possible.
When I first decided to come back to coaching again, I was full of doubt and worry and fear. I had to marshall my thinking, clear the energy, and jump to a new track.
I will show you exactly what I have done to get back on the coaching path, to the point where I had the confidence and the juice to think up, plan, and teach this class.
WHAT I WILL SHOW YOU:

Inside the videos, ebook or print book – whichever one you choose to get – I will reveal to you how I shift 'negative' thoughts, beliefs and habits around to creative, constructive directions!
YOU GET:
•  The Five Keys to Energy Creating
•  The Clearing breath (my own unique version)
•  How to Open to receive and be strong
•  How to find and access your Inner Flame
•  How to Transform fear and victimhood
•  How to shift and stay shifted
•  How to clear sugar
So you can:
… start getting your health and energy back
… live a life of purpose and meaning
… be the Creative Boss of your life –
… feel a solid connection again with the Eternal
… love yourself and your life again – or maybe for the 1st time ever –
So here's what to do. Choose one or more of these options:
How to Get Your Energy Back VIDEOS
90 minutes total – short videos for easy watching 
Get them HERE for only $10.00
How to Get Your Energy Back EBOOK
Get it HERE for only $5 (or choose what you want to pay)
How to Get Your Energy Back PRINT BOOK
Get it HERE on amazon for $17.99