Read on below about EFT and what it can do for you.
Easy, fast, immediate HELP for you:
EFTinEveryHome.com has a demo tap-along you can use, and links to the various EFT books available.
EFT/tapping is one of the most critical keys to being able to change any part of your life, so you can create your personal life, your health and your business the way you want them to be.
So you are most welcome here! I wish you the very best tapping success ever, and from today on, a more magnificent life. I've shown thousands of people how to get free of pain, tauma, fear, grief and heartbreak using tapping – I can truly say that you couldn't find a better tool with which to get the results you want than EFT.
WHY TAPPING?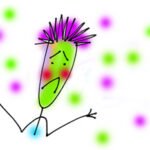 In 2002, I had come to my wits' end after 35 years of daily, sneaky, debilitating back-of-mind suicidal thoughts. I was just about ready to do the dirty deed.
But everything completely changed when, one day as I was leading my Creative Writing Class, one of my students came in after having been gone for a number of weeks.
She had been so miserable, crying and obviously deeply unhappy – now she looked so good that I had to ask her what she had done to change herself. She was glowingly happier than before! She just said, "EFT. I just found it online."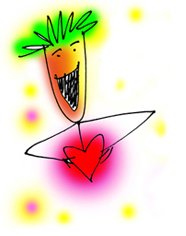 After the class, I rushed home and looked it up, learned how to use it, and my life has never been the same – thank goodness!
In a very short six weeks' time, I eliminated every shred of suicidal thinking – which is still gone today, many years later.
I can't even begin to express how miraculous it's been to be without that undercurrent of nasty, destructive thinking constantly running in the background of my mind.
What would you change in your own life if you could?
Well, now you can. When you learn how to use the incredibly simple, easy, fast EFT, you have direct access to The Key that will unlock all the good things that have been waiting all your life to flow to you.
RECLAIM YOUR POWER!
THE BASICS – START HERE: I suggest you start by downloading and reading Change Your Mind with EFT, the Basics. This is one of the most popular, most-often-downloaded books on how to use EFT.

You'll start upon the most amazing, most rewarding and most fulfilling journey you can ever imagine – the reclamation of you, your inner power, your passion and your potential as a spiritual being in this physical form in which you walk around.
I take you through how EFT works, how to use it – step by step – and then you can tap along with the case stories. Each story is based upon a real person's session (names changed, of course!), and includes tapping phrases you can apply to your own issues.
Included are illustrated pages showing the Tapping Points.
ADVANCED – Once you get the Basics down, and have had good success using tapping, now get Change Your Mind with EFT, the Advanced. (This book was temporarily retired for updates – it is coming back soon)
You'll get advanced, illustrated,  tapping points – some of which most EFT Practitioners don't even know – and more case stories, so you can see how the points and tapping are used. I give you detailed instructions about taking your tapping deeper, faster and more powerfully than you can imagine now.
I invite you and urge you to at least get Change Your Mind with EFT, the Basics, and start tapping with me right now, because very shortly you'll be able to look back at your life, and say, "Wow! I was hurting so bad, and now look at me! I'm living the Dream of who I really am!"
Change Your Mind with EFT, the Basics – tapping manual – tap along with the case stories – START HERE
STUCK? If you're stuck and feel like you need another pair of ears and eyes and a little guidance, contact me! I'm happy to work with you one-on-one. I help you get off the ground and back on track – and when you're ready, going full speed. Read How to Get Unstuck HERE, and get the audio and tap along with it!

BADLY STUCK? If you need fast help getting right-away-relief from or completely eliminating past trauma, shock or loss – contact me. Imagine life without those bad dreams, flashbacks and blackouts!
You really do not have to struggle every single day with rage, fear or worry, ever again, after you learn how to use EFT/tapping. It's so easy, and so fast. I'll show you how.

My best to you – I wish you unlimited peace, love, outrageous success and vitality beyond measure on your journey through your life. You've chosen a great tool to assist you for the whole rest of the time you walk this earth.
aloha –
Angela Treat Lyon