Are you a woman who's either fast approaching 50, or maybe you have already jumped over?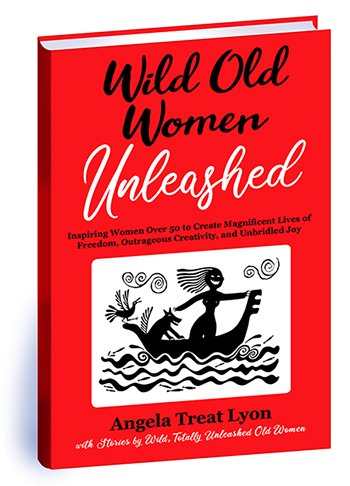 If you are, boy do I have a book for you!
You know how some people think of women over 50 as 'over the hill,' dying, broken, alone, sad, sick, weak – even deranged?
Surprise!
You'll discover how women over 50 these days are feeling freshly imbued with brilliant energy and new life!
It's high time to consider older women as wise, powerful, creative people who have huge value in our world.
You'll see how perceiving women – especially older women – in a negative light affects everyone for the worse, and how to change that.
WHAT YOU GET:
I wrote this book to inspire you to not let yourself fade away, so you can take your power back, and rock on! You can use the included Breakthrough System to shift your limiting thoughts, emotions and energy into new ways to choose and live a wonderful life.
You also get galleries showing the work of featured artists, authors, business women and coaches who are all over 50: showing what older women do with their magnificent knowledge, skills and expertise.
When you read this book, you'll discover:
How perceiving older women negatively hurts everyone
That you and your natural gifts are a boon to the entire world (YES!!!)


And how you, too, can feel re-energized, excited and re-enlivened

How to use the Breakthrough System to reclaim your power

How to shift from feeling worn out and useless, to smart, wise,

creative, valuable and respected.
Want to finally feel honored and respected for all the amazing and extensive knowledge, experience and expertise you have accrued?
Want to feel re-energized and re-inspired?
. . . to finally let go of the I-can't-do-thats?
. . . stop being afraid to speak your truth?
. . . play in all kinds of creative endeavors?
This book is for you. You can do all that.
You'll see how. What are you waiting for?
All 3 versions of the book are ready!
212 pages, with color illustrations and glorious galleries!
Thanks to the Wild Old Women Unleashed Facebook group, we had some terrific discussions, lots of fun, great conversations, and fascinating stories – almost all of which can be found within.
You get to see and cruise through several glorious galleries full of the masterful works of these women – life only gets better, more rich and more delicious after 50!
HERE'S where to get your book!
GO HERE to get the FULL-COLOR PRINT book for $28.97
GO HERE to get the Black & White PRINT book $19.97
GO HERE to get the E-Book for … well, it is usually $9.98. But you get to pay what you want!

Wild Old Women Unleashed –
Inspiring women near or over 50 to redefine 'old'
from used up and dying to creative, powerful and free!