Get Unstuck & Back on Track Now!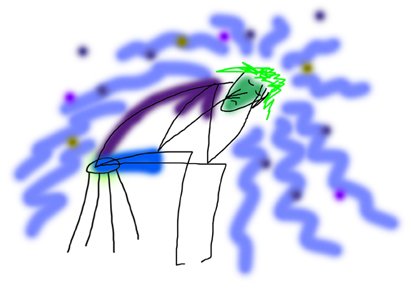 Oik! I have to CALL someone??? I have to (cough!) sell my work? What if they laugh at me? What if they criticize or judge me? What if they reject me? What if…
So. You feel stuck. And so far, you can't figure out how to get yourself free. Right? How does that feel to you?
Feeling stuck sucks! It hurts!
And it gets in the way of the good things you want to do!
Here's the deal: the longer you stay stuck, the less you feel good about yourself and your life, and the more apt you are to spiraling down into the dirty depths of despair and depression. I know. I've been there.
It's time to get back to feeling great about yourself and your life! You deserve it!
So please – allow me to help you get unstuck – right now. I'm going to reveal to you the key liberating questions to ask yourself any time you get unstuck, any one of which will get you moving forward again.
And I'm going to show you why you get stuck, and what to do about it each and every time, so you never have to feel stuck ever again. So, if you:
have felt or feel stuck right now

don't know what to do about it

have this awful sneaky voice in your mind that says you have no value

have these nasty thoughts in the back of your mind that you'll 'never be good enough'

think that you 'don't have what it takes'

just plain feel stuck stuck stuck and can't move out of it…
Let's ditch this feeling-stuck glitch!!! I invite you to get, download, and tap along with the powerful, 66-minute, life-liberating audio I created just for people like you, who felt stuck, like it would last forever, and that they didn't know how to get out of it. Especially if you are an artist.
Go HERE to get it now.
It's vastly expensive! It costs you three arms and two legs …
… and a whole outrageous … $5.00!
Or – whatever you want to pay!
You get my

66-minute audio recording

of a class I'd usually charge $69 for.
You get my

3Qs Get Unstuck Guide
You get it for a pittance. Hah!

Surprise

! Easy to get, yes?
I can be nice, sometimes… Go HERE for it.
Why get the audio? Because, I bet you're stuck on:
"People think I'm too much"

"I feel like I'm not enough"

"I'm not good enough"

"I can't do it (whatever 'it' is)"

"My dad said … (whatever negative message)"

"My mom said … (more negative messages)"

"I'll never make money from what I do"
Right in the tapping session, I lead you to find the main reason you're stuck. Then we find some of the little destructive tentacles it sends out. And we transform it all into energy you can use for clarity, originality, creativity and profitability.
You walk away feeling happier, lighter, more focused, and with a greater sense of clarity and purpose.
Yeah, Mama! Who wouldn't want that? Get the audio right now – HERE!
When you get the audio recording, you also get
the FREE bonus pdf 3-Qs tip sheet!
ALL glitches can be tweaked!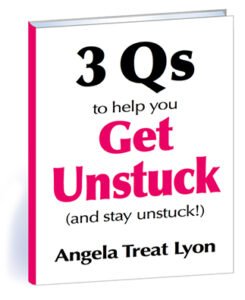 Because there are people out there who need your help, who want to know you, and who want to succeed, as well. And you can help them.
But if YOU are stuck, how can you help anybody?
I've shown hundreds of people around the world how to get unstuck.
They are now soaring and celebrating their freedom from unwanted emotional turmoil.
How about you?
If you've been stuck – no matter how long – and want to finally fly free, this is your chance.
You get my 60+ minute audio where I help you not just get unstuck, but then focus your energy into creativity and personal power.
And you get the instantly downloadable 3 Qs tip sheet as a thank you from me for wanting to really go for it!
If you are an artist, an author, a health, EFT or energy coach, a promoter, a performer, a teacher, professor or educator…or a doctor, lawyer or CEO … YOU HAVE VALUE, and you need to get unstuck so you can blast off! Now!
Go

HERE

to get the audio that will set you free now!